Replenish!2020 – Next Generation Warehouse Workflow
In this "Next Generation Warehouse Workflows" presentation from Replenish!2020, Datapel Managing Director Adam Wesley shares insights into the evolving Wholesale, Distribution, and Manufacturing industry within Australia and highlights how COVID-19 has impacted operations while spurring innovation.
Click Next Generation Warehouse Workflow to watch the full presentation.
Within the Australian Supply Chain wholesale distribution adds $68 billion to GDP with SMEs contributing 60% ($40 billion). Often referred to as the 'Online Apocalypse', significant hype is given to the negative impact on wholesale and retail from eCommerce trade. However, rather than online shops 'stealing the customers' of traditional brick and mortar shops, it is the spending habits of customers that are changing. That being the case, wholesale contribution to GDP continues to be in decline. This shrinking market for wholesalers requires B2C trading as an essential channel for this industry. The eCommerce pivot is of high importance to keeping your business relevant in this new marketplace.
The top industry challenges identified as preventing a transition to next generation warehousing include:
Addressing Labour shortages and rising costs

IT investment reluctance

Pivots and trends toward a digital workforce

Recognising new demographics of customers and suppliers
Covid-19 has been the catalyst for change; innovation and efficiency have been accelerated, risk assessment and future planning is now essential. Above all, Covid-19 has highlighted that our industry and supply chain are vulnerable. To stay ahead, it is essential to understand demand and forecasting, have multiple sources of supply, allocate time for product retirement and rationalisation, worker safety and physical operating procedures review.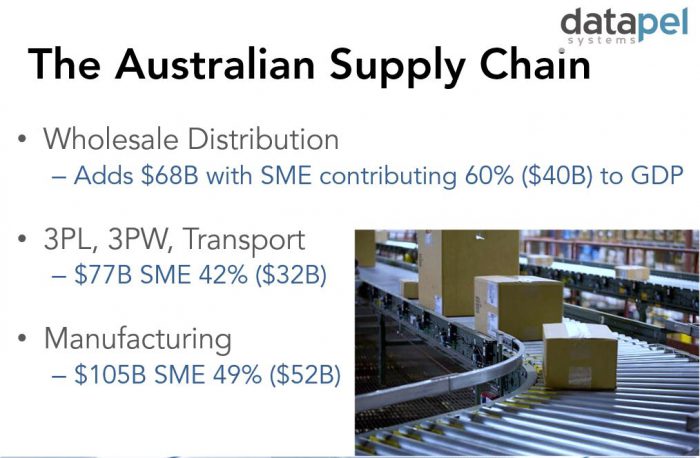 The simplest way to achieve a Next Generation Warehouse is the implementation of agile and accessible systems (specifically shifting to the cloud), removal of repetitive manual tasks, and the reduction of administration by adopting automation.
Click Next Generation Warehouse Workflow to watch the full presentation.