MYOB Inventory Management: Benefits of Integrating with Datapel Could.WMS
Let's face it, accounting and inventory management can be a real headache. Systems of the past didn't exactly make managing the two easy for warehouses and accounting teams. Enterprise Resource Planning (ERP) tools work well for finance and accounting but aren't user-friendly for warehouse transactions. This situation often left warehouses following manual processes or developing workarounds in an attempt to operate efficiently.  
Datapel's WMS integration with your existing MYOB business accounting system changes everything and can help simplify your warehouse accounting processes. Once connected, Datapel's warehouse management solutions communicate directly with your accounting software using industry-standard API technology. Datapel's integrated MYOB inventory management solution helps wholesalers, distributors, manufacturers, and logistics providers optimize their operations.
Reasons to Cheer for an Integrated MYOB Inventory Management System
You need more than an accounting platform to manage inventory. Integrating  MYOB accounting software with Datapel's WMS helps companies to lower costs, improve efficiency, and improve inventory control. Datapel's MYOB integration offers an easy-to-use and fast connection between MYOB and other systems, eliminating the need for manual data entry. The cutting-edge API technology provides a speedy connection between systems, so transferring data no longer needs to be arduous and vulnerable to errors!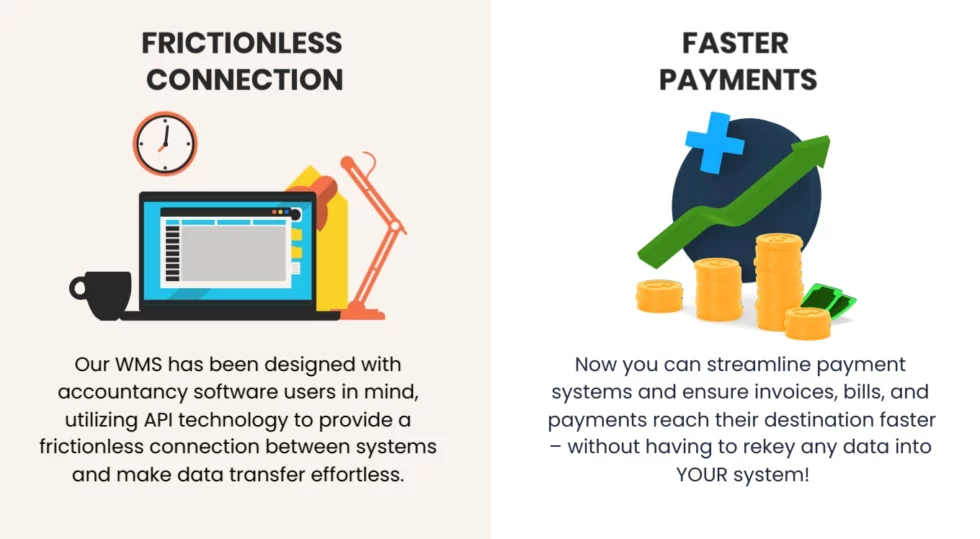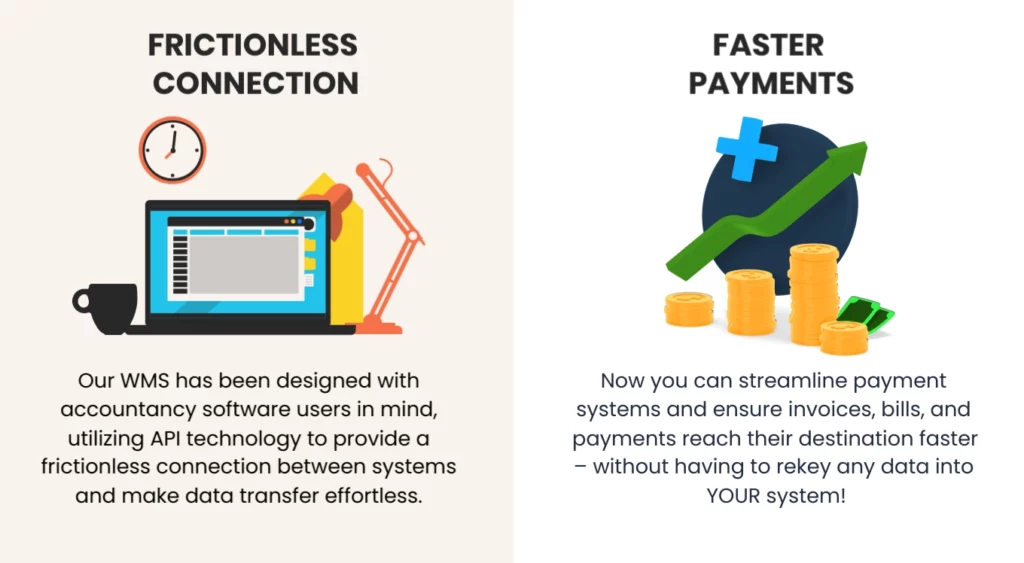 Datapel's warehouse management solutions are trusted worldwide to help companies manage inventory more effectively and efficiently. MYOB Business is efficient accounting made easy, so start taking advantage of our connections today and build a complete Supply Chain solution. 
Streamline your order management, payment, and admin processes to automate data entry and gain accuracy, consistency, scalability, and more!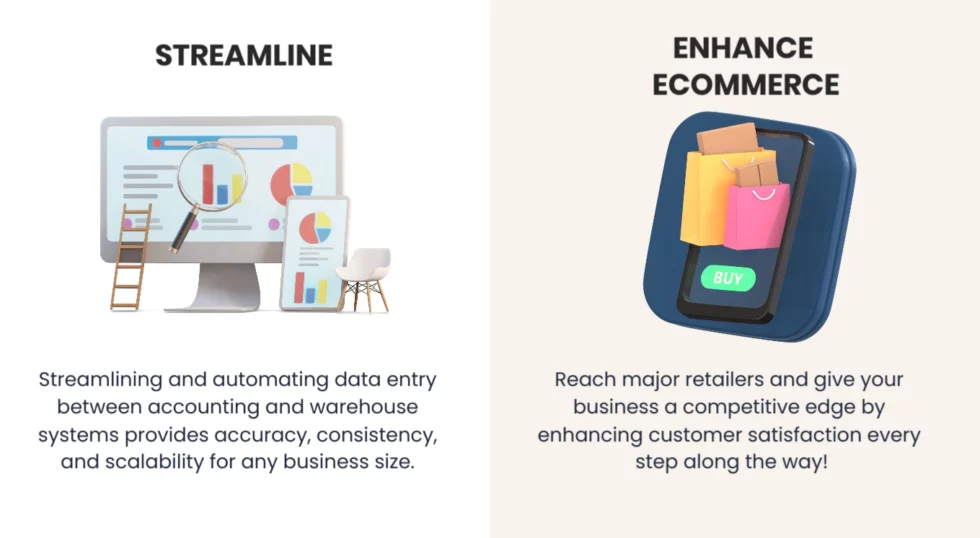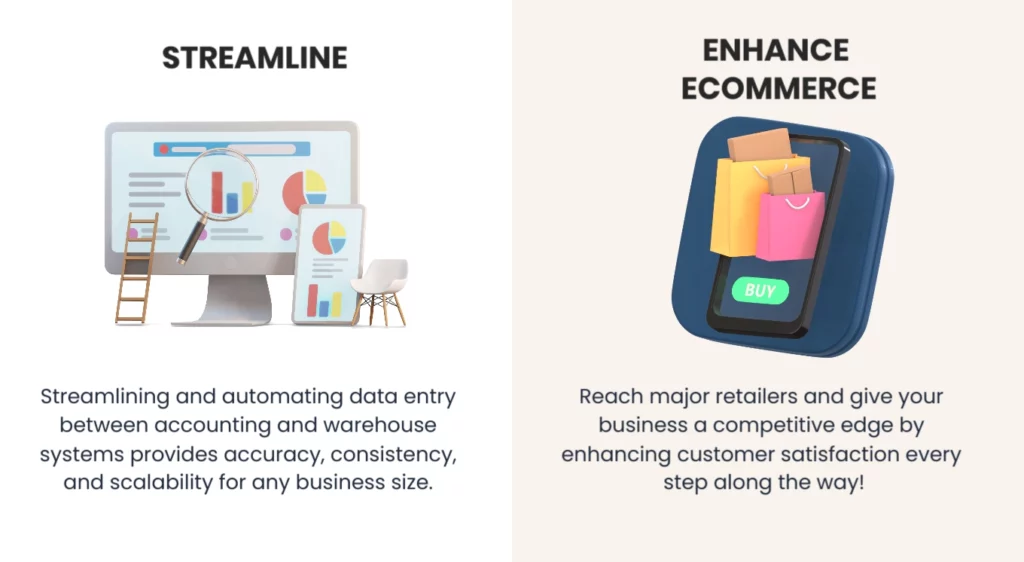 Embrace eCommerce capabilities by leveraging leading Web Stores like Shopify, WooCommerce, or SPS Commerce EDI – stay ahead of major retailers for a competitive edge while simplifying supply chain management through a seamless connection between Warehouse Management Systems and accounting software. 
Integrating Datapel with MYOB Inventory Management 
The MYOB integration with Datapel WMS makes onboarding quick and efficient. Your appointed Datapel professional services consultant will work with you to quickly get everything connected and synced, so in minutes MYOB account information, tax types, product lists, customers, suppliers, and contact details are all fully integrated. 
Payments, bills, and invoices go directly to your MYOB system in real time when order fulfillment and purchase receipts are complete – no more time wasted on manual rekeying. MYOB integration allows for easy reconciliation of invoiced sales from Datapel and inventory levels between MYOB accounting systems. Ensuring accurate payment receipt reflects and streamlining credit checks for the operations team makes inventory management a breeze.
Benefits of integrating MYOB and Datapel 
Integrating the two systems is an efficient way to keep track of your company's inventory and related transactions. The system provides a comprehensive tracking solution for businesses of all sizes, with functionality to meet your specific needs. Here are some features that make integrating Datapel and MYOB software stand out from the rest. 
Accounts & Tax Types: The integration between the two allows you to sync account information on demand easily or periodically. Synchronizing product lists, customers, suppliers, and contact details ensures you always have up-to-date information. You can also assign tax types to various products or services, allowing you to manage sales taxes properly. 
Product Sales & Purchases: Combining the two will enable you to quickly and efficiently process sales and purchases and generate invoices and bills without re-keying information into other systems. These features make it easier for companies to keep accurate records while streamlining their workflows. 
Work Orders & New Contacts: Companies can easily manage their work orders and add new contacts in just a few clicks. You won't have to enter contact information again manually – the software takes care of it for you! Plus, users can access customer payment history at any time to know when payments are due and who has yet to pay what amount. 
Order Fulfillment & Payment Reconciliation: When the two systems work together, it makes managing your finances effortless by sending invoices and bills to your accounting system as soon as fulfillment and purchase receipts are complete.
Additionally, users can check invoice sales from Datapel Cloud WMS against a reconciliation report or verify inventory levels against accounts when necessary. 
No Need For Re-Keying of Data: As mentioned earlier, incorporating both systems eliminates the need for data re-keying. Eliminating the need to re-key data saves tremendous amounts of time and hassle while ensuring accuracy across all departments within your organization. 
Seamless Integration With Your Accounting Software: Finally, one of the best features of this system is its seamless integration with your accounting software – allowing payment receipts direct from it to affect your WMS in just a few seconds! 
Conclusion
Manage your warehouse accounting more effectively and get paid faster with MYOB and Datapel's seamless integration. This powerful solution allows you to streamline data entry, improve eCommerce capabilities, and process payments quicker than ever. It provides frictionless connections that make it easy to keep track of inventory, simplify invoicing processes, and generate real-time reports with valuable insights for better decision-making. 
With the help of this integrated system, businesses can save time by automating mundane tasks such as developing alerts for low stock levels and creating purchase orders with just a few clicks. You can also access comprehensive inventory tracking options to ensure your business is always running optimally. Additionally, you can use the integrated solution to collect payments using credit cards or ACH transfers, further speeding up the payment process. When you pair both systems together, you will see seamless integration, and your business will run more efficiently with improved accuracy in all its financial transactions.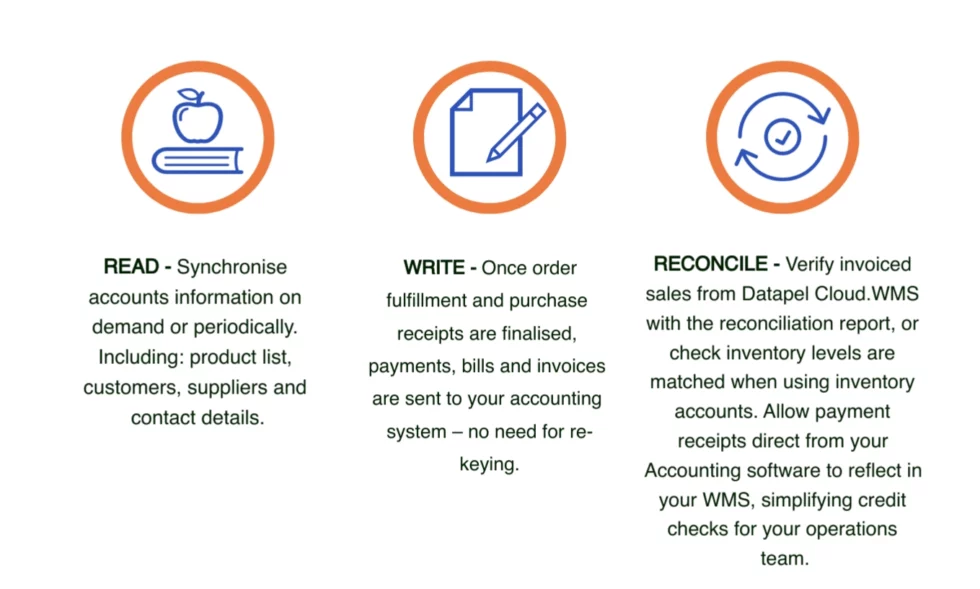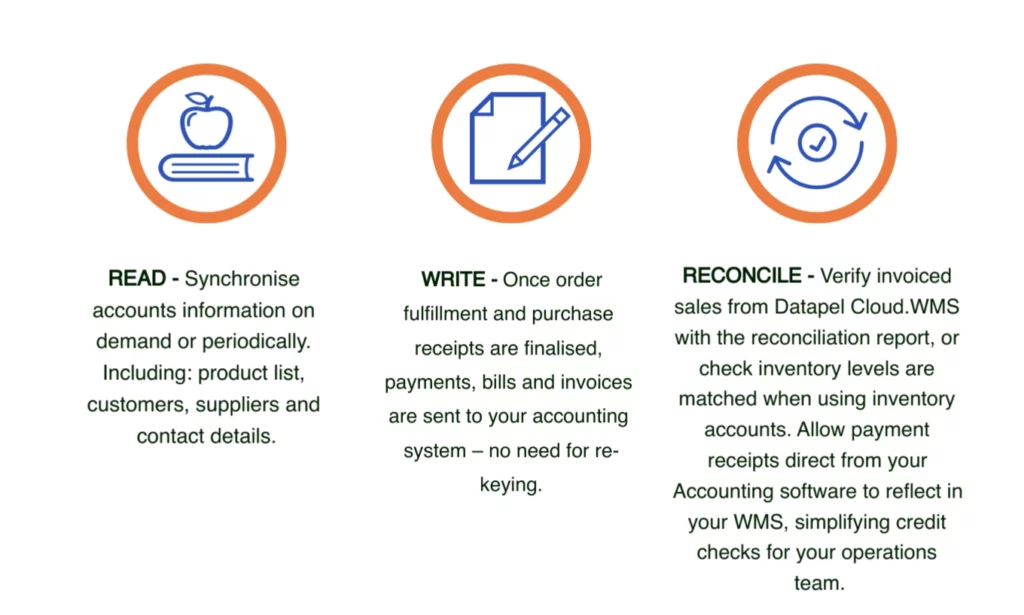 Many businesses rely on accounting solutions such as MYOB to provide tracking and reporting, but this software alone is not enough for a successful inventory management system. To unlock the full potential of an inventory management tool, one must get the power of a Warehouse Management System such as Datapel's.
MYOB Business offers an advanced inventory management edition, but it vastly lacks the features of Datapel WMS. It is not sophisticated enough to accurately track stock levels over time or give insight into future requirements; it does not have capabilities such as smart picking solutions for orders or integration with external systems for efficient order fulfillment; it also does not offer automated replenishment tools that maximize inventory performance. All these features and more are available through Datapel's Warehouse Management System product range. Utilizing these robust solutions can help businesses better manage their inventory, streamlining order processing while minimizing costs and improving customer satisfaction.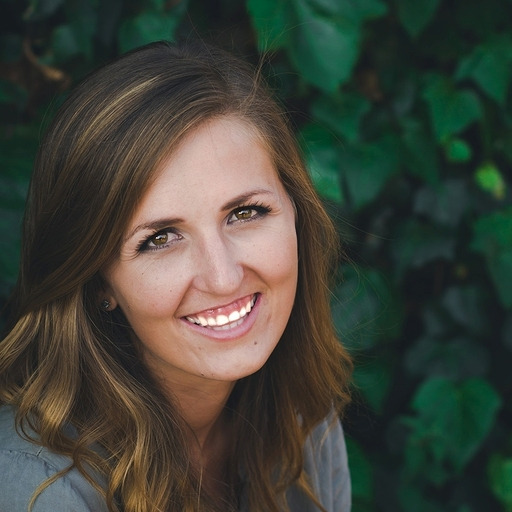 In my role, I oversee the development of insightful blogs that delve into the intricacies of warehouse management. Each piece reflects my dedication to empowering businesses through informative content. Through my team's extensive experience in the industry, we aim to bring clarity to the complexities of WMS, helping businesses make informed decisions.
Join me on a journey through the ever-evolving landscape of warehouse technology as we explore the latest trends, industry insights, and practical tips to streamline your operations. Feel free to connect, and let's embark on a collaborative exploration of how WMS can redefine your business efficiency.
Cheers to innovation, efficiency, and the exciting world of warehouse management!