TradeGecko Sunset Got You Down? Datapel WMS Has Everything You Need and More
When one door closes, another opens. Don't let the QuickBooks Commerce (previously TradeGecko) product sunset disrupt your warehouse and inventory management operations. Why not make Datapel your go-to WMS? Continue to enjoy all the basic features of TradeGecko combined with best practice warehouse management, advanced inventory control, flexible eCommerce integrations and much more.
Datapel Cloud.WMS – All the Functionality of TradeGecko plus…
Robust Inventory and Order Management: We designed Datapel around industry-leading warehouse management processes. Whether you need an item summary or to analyse an article's every interaction, our WMS has you covered. Enjoy 360 degree warehouse visibility through dashboards, audit trails, reports and more.
Built-in Barcode Scanning: Take advantage of our best practice barcode scanning to streamline warehouse workflows and track what you want, when you want. Plus, our smart-scan shortcuts keep the process keyboard-free to increase your productivity.
Built-in Point of Sale Compatibility: Skip the plug-in downloads and user configurations with Datapel's API integrations. Enjoy simple omni-channel order fulfilment with flexible pricing schedules and automatic accounting data transfer.
eCommerce Integration: Continue to have web store orders seamlessly transfer from platforms like Shopify, WooCommerce, Iconic, Amazon and eBay stores directly into your Datapel Cloud.WMS. Pick, Pack, and Ship orders with optional integration to your logistic carrier partners.
Ready to make the switch? Set up a free demo with our inventory management specialists to discover what Datapel WMS has to offer.
TradeGecko (now QuickBooks Commerce) vs Datapel Cloud.WMS
Datapel Cloud.WMS has all the TradeGecko features you're used to, plus a bunch of extra ones to improve your inventory management.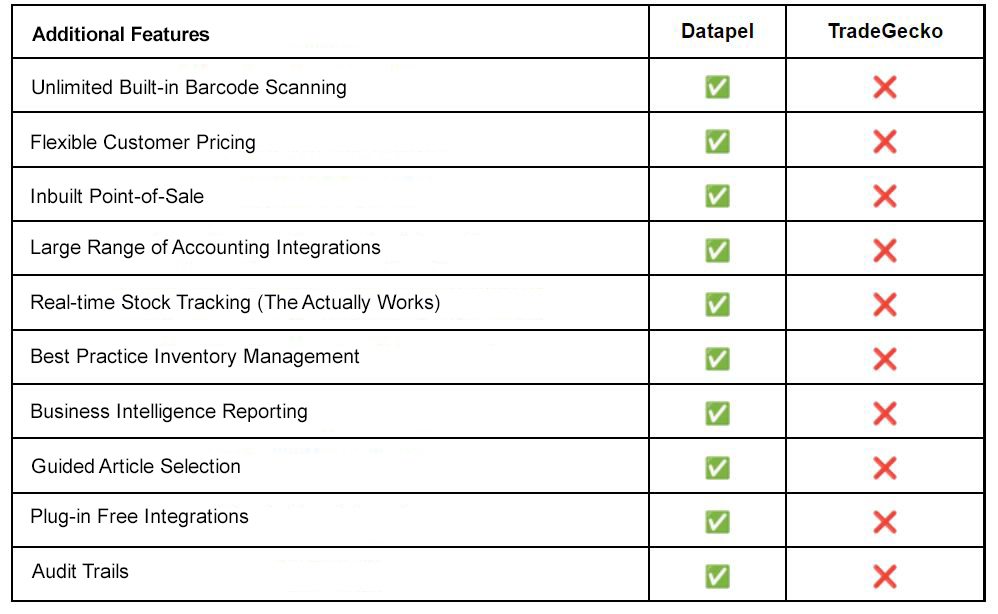 Here's how you can make the switch to Datapel…
Step 1
Arrange a free demo with Datapel, let us know your needs and send us your QuickBooks Commerce data files. If you need help with this, QuickBooks has an export instructions guide that has everything you need.
Step 2
Our onboarding team will analyse your data and run you through how Datapel can fit your business. Some factors we consider include your existing eCommerce, accounting and other business integrations.
Step 3
We upload your existing data into your new Datapel WMS workspace so you can Go Live and retire your TradeGecko or QuickBooks Commerce system before the June cut-off.
Make the Switch to Datapel Cloud.WMS today!
The QuickBooks Commerce sunset is around the corner. Get started today with a free demo and experience industry-leading warehouse management software.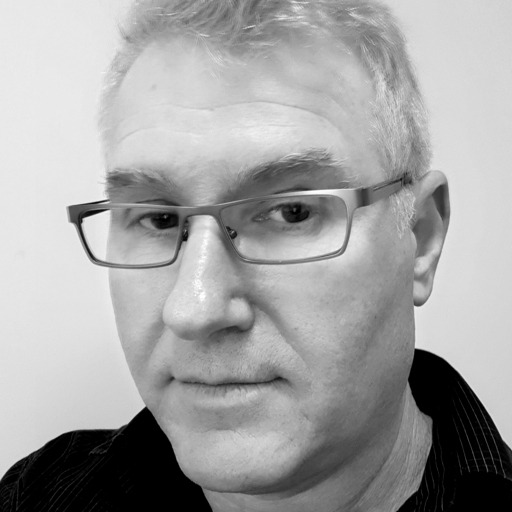 Adam Wesley is the Founder and Managing Director of Datapel Systems, where he serves as an agile Operational Leader with a fervent dedication to problem-solving, strategic thinking, and process improvement. With a remarkable career spanning over two decades in the IT landscape, Wesley brings a wealth of knowledge and expertise.
For the past 15 years, he has honed his skills in the niche field of warehouse workflow solutions. Wesley firmly believes that effective business systems should not only meet the needs of warehouse operations but should also empower and support warehouse workers. His vision revolves around achieving the precise shipment of orders while simultaneously minimising order fulfilment time.
Adam Wesley's commitment to innovation and efficiency in the ever-evolving IT industry has positioned him as a respected figure, and his leadership at Datapel Systems continues to drive the company towards excellence in warehouse management solutions.