Warehouse Automation: Where Do You Stand in 2023
Where are we with warehouse automation? 
Manufacturers and distributors are feeling growing pressure on their operations due to various factors: a shortage of labour, increasing demand due to e-commerce, limited warehouse space, and lots more SKUs. 
These issues are driving the uptake of warehouse automation solutions from simple mobile handsets to driverless forklifts and sophisticated robotic arms. Companies are adopting many types of automation tools, both physical and digital, to deal with repetitive tasks and to reduce costs. Labour is expensive, wages are rising, leading to smaller margins. 
What is warehouse automation?
Warehouse automation frees up employees to concentrate on more complex tasks that create value for the business. Speeding up the movement of goods means lower management costs, improved revenues, more sales, and satisfied customers. Warehouse automation software helps to track inventory and manage the shipping process leading to faster picking and more reliability in fulfilling orders.
Reduction in travel distances and less traffic also means a safer workplace.
Work areas that benefit from automation
Receiving goods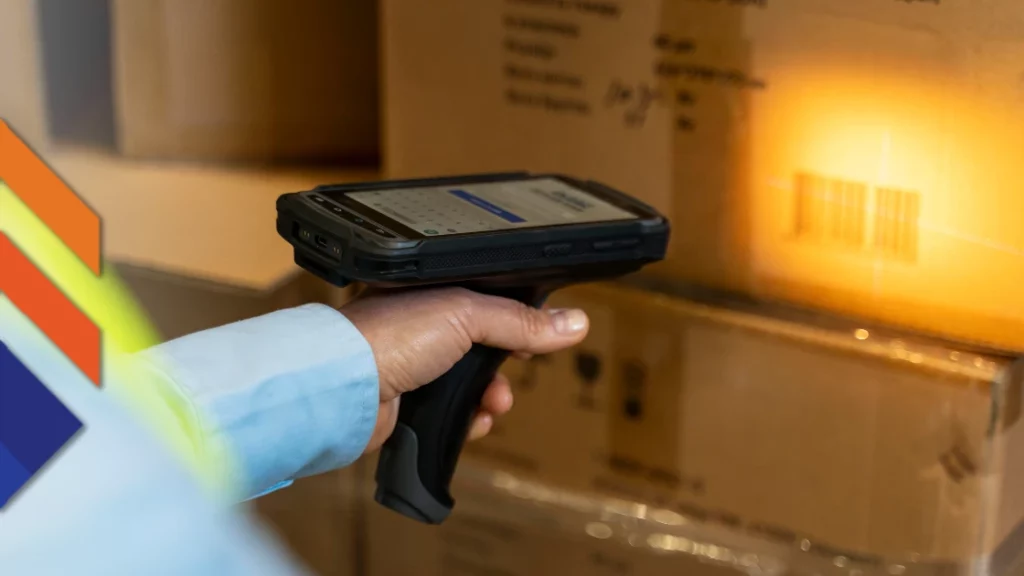 Receiving is becoming more complex due to the increasing variation in volumes and sizes of products.  Floor space is limited while the need for faster throughput continues.  Manually recording incoming goods is inefficient, open to human error, and provides no traceability.
Scanning equipment can read labels on incoming goods. This provides full information about the items e.g., code, description, colour, size, etc., immediately matching items to the order.   
Moving goods within the warehouse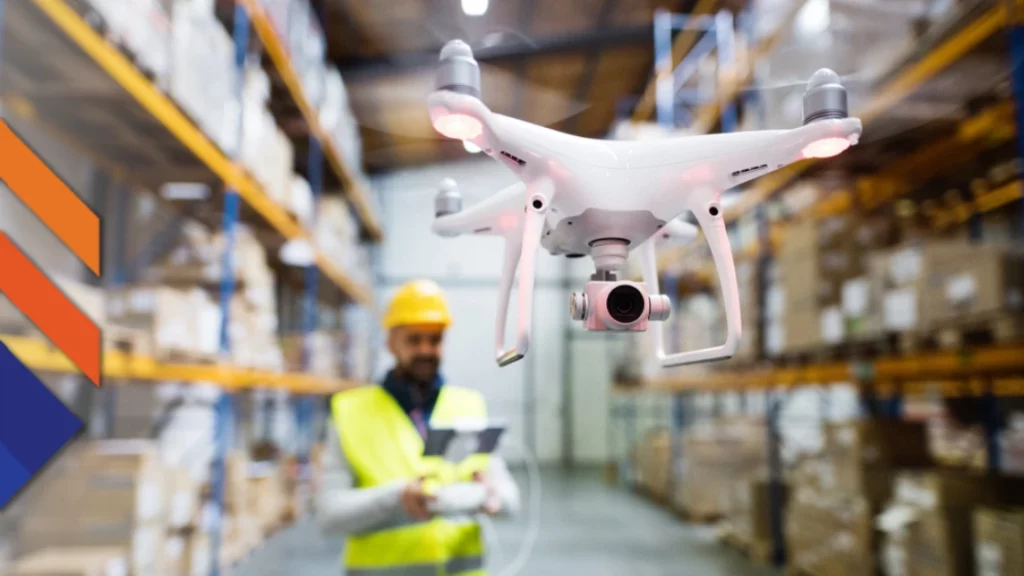 Automated guided vehicles (AGVs) are practical in smaller distribution centres (DCs) facilities as they can operate in limited spaces. Cheaper mobile robots are replacing conventional rolling conveyors. Drones that have embedded scanners are being used to improve inventory management by performing automatic stock counts.  
Picking, packing and dispatching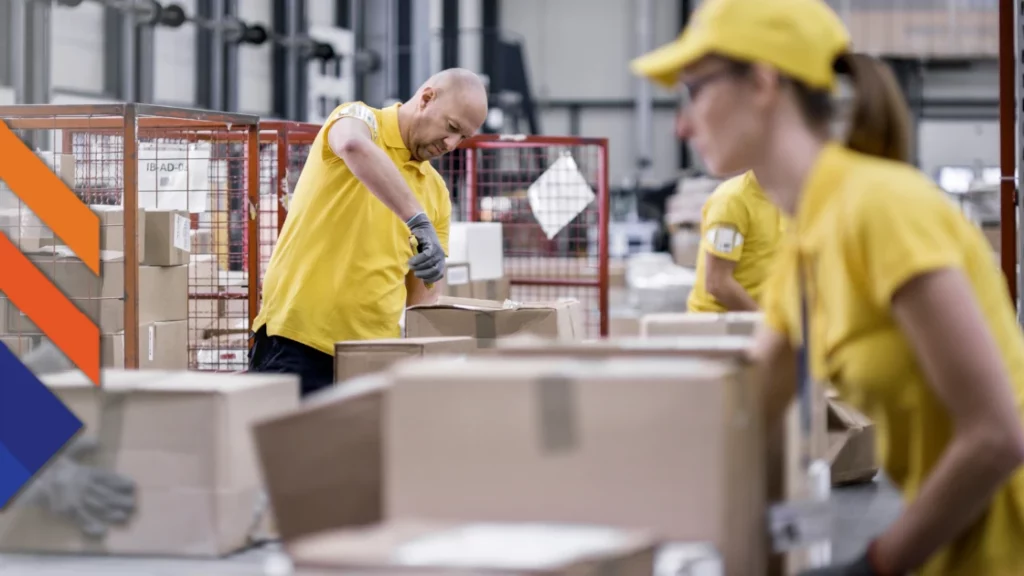 The shipping of customer orders is where automated solutions provide the best benefit. The aim is to pick, pack and dispatch items using the fewest resources at the lowest cost. Automated tools mean fewer mistakes and higher productivity. There are no lunch breaks, machines can work 24/7 without stopping.
Automated solutions include boxing fragile and high-value items by remotely cutting a box to size and closing it. For regular items, bags can be presented to the packer for filling. The label is automatically applied to it and the bag is dropped into a bin for dispatch. 
Trends in warehouse automation
The development of automated equipment and vehicles is continuing. Warehouse automation can vary from relatively simple to quite complex. It combines physical processes and digital processes to reduce repetitive tasks and improve productivity. 
Roads to Warehouse Automation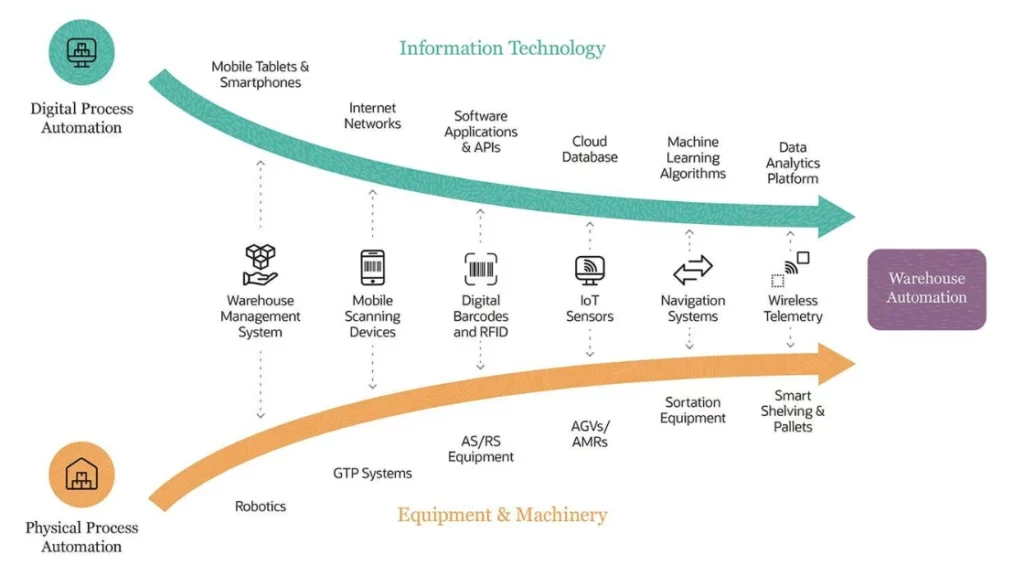 Machine learning and artificial intelligence (AI) techniques are identifying patterns so that system adjustments can be made quickly with minimum human intervention. Machine learning is one of the applications that allow us to learn from experience. Data is gathered from sensors that detect patterns of behaviour and human activity to improve workflow.  Automated guided vehicles use AI-powered vision to travel without colliding.
They can handle repetitive tasks including packing, picking, moving stock, and fulfilling orders faster than human workers. Speech recognition and voice-activated technology enable workers to work hands-free and more safely.  
Warehouse automation and robotics
At the more advanced level, Robotic Process Automation (RPA) is the application of software solutions to automate rule-based and repeatable tasks that are traditionally carried out by humans. Robots capture data and carry out actions just like humans do. RPA has the effect of speeding up processes, saving money on labour, and eliminating errors.  
The main aim of warehouse automation is to increase customer satisfaction. Your business benefits if customers get their products on time and in full. Automation means reduced labour costs, improved inventory accuracy, and increased speed to market. It is important to find the right balance of suitable and affordable technologies and the right level of human resources, whatever your business. Budget is a major consideration.
The role of warehouse management systems (WMS) in warehouse automation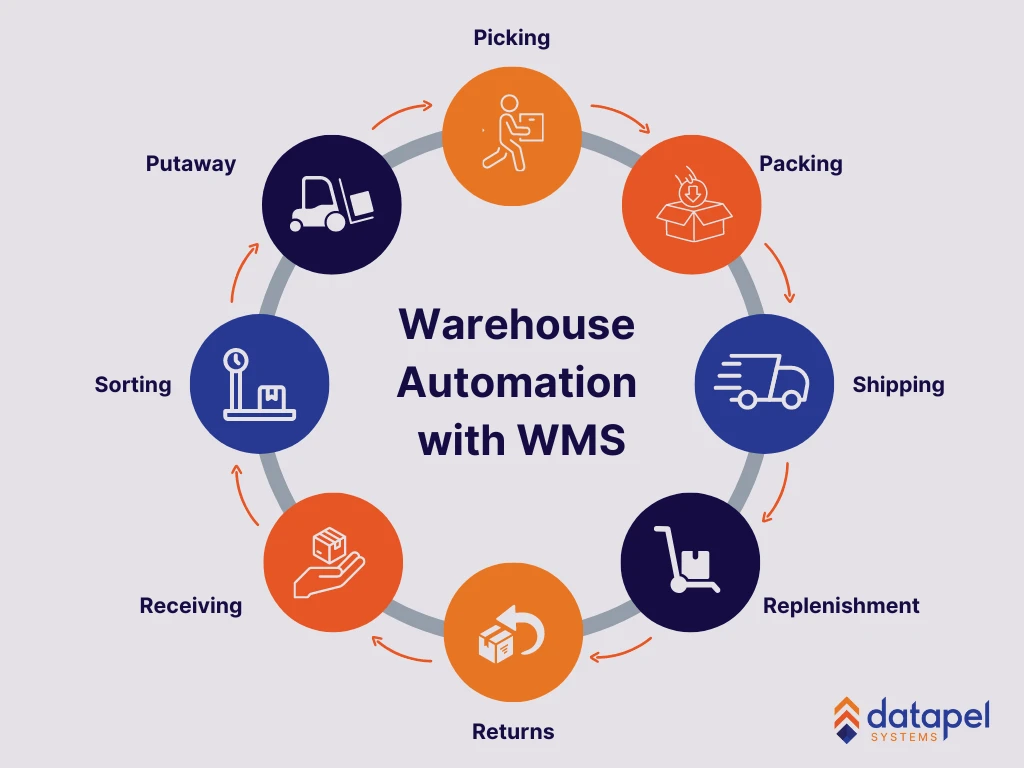 A WMS brings everything together; it is the central nervous system. A WMS focuses on integrating data from physical assets and automation tools to get the best results.
Devices such as mobile phones, wearables, sensors, and radio-frequency identification tags (RFID) are used to retrieve and process data from automated equipment, speeding up warehouse processes. A WMS allows for greater efficiency, accuracy, and visibility into operations. 
The right WMS for you will provide clear visibility into the storage and movement of goods, increase security and strengthen relationships with suppliers and customers. A scalable cloud-based WMS can integrate some or all of the various logistical processes within a warehouse, as required. WMS costs are continuing to decrease due to new entrants in the marketplace and increased competition.  
Also read: Warehouse Software Technology Trends to Avoid 
Taking the first steps towards a WMS  
Document the current processes within your warehouse operations, end-to-end. 

Identify

high-volume repetitive processes that take up too much time. 

Consider how an automated solution could simplify tasks and reduce activity times (and costs) for each process. 
Datapel's trusted Warehouse Management System lowers your costs, enables you to be more efficient, and dramatically improves your inventory control. It can work seamlessly with your existing systems leading to minimal downtime.
Book a demo and get a free trial on the system to see it in action.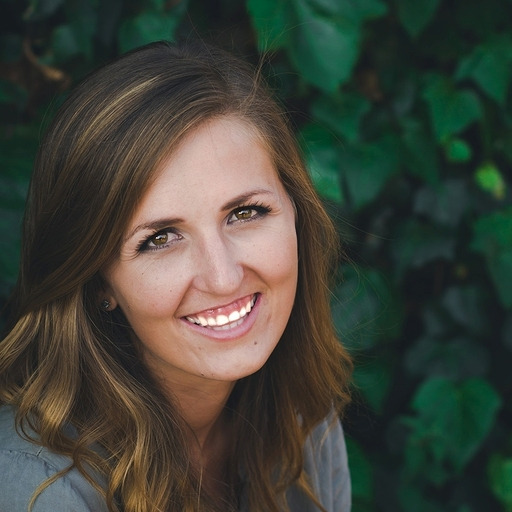 In my role, I oversee the development of insightful blogs that delve into the intricacies of warehouse management. Each piece reflects my dedication to empowering businesses through informative content. Through my team's extensive experience in the industry, we aim to bring clarity to the complexities of WMS, helping businesses make informed decisions.
Join me on a journey through the ever-evolving landscape of warehouse technology as we explore the latest trends, industry insights, and practical tips to streamline your operations. Feel free to connect, and let's embark on a collaborative exploration of how WMS can redefine your business efficiency.
Cheers to innovation, efficiency, and the exciting world of warehouse management!